We're on day 4 with no sun here in Denver and I feel like all my energy has been sucked out of me. The good thing...I'm wearing a sweater in June. Hate the heat. It's supposed to clear up today, and I can see the mountains, so at least no walking beagles in the rain today.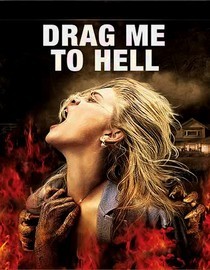 Anyways, I'm lacking motivation to write today, so I put in
Drag me to Hell
right before I sat down to write this. Get the heart pumping; wake me up. I know nothing about this movie other than a vague memory of the commercials last year. It just started and I'm not impressed with the gross gypsy woman and her curse on the pitiful Christine. Great timing with the storyline, considering the banking industry. Wrong target though. Can we please drag a few upper executives of the major banks to Hell...
please
.
I'm pretty excited that
Literary Agent Rachelle Gardner
is running a series this week in her blog on contradictory feedback. This has been my greatest challenge as I make my way through the feedback from my critique group. Best piece of advice she provides this morning.
It's important for you to go with your gut and stick with your vision. Don't allow anyone to take away your voice or an important part of your message. However, if you're a newer writer and you're not sure you've found your voice yet, you can allow those critics to help you refine your voice or find your vision. It's a delicate and tricky balance - figuring out which changes feel like you're improving the work, and which feel like compromise. Only you can decide.
I do go with my gut, but I've reached a point in my group where I have my favorite critique members. And recently I've gone against my gut and experimented with a few suggestions that turned out helping the story flow better. Interesting lesson and more contradictions.
Drag me to Hell
is over. My rating, 3 out of 5 stars. They set it up, so it was very obvious how it was going to end. All in all, the movie reminded me of a cutsie long and predictable Tales from the Crypt episode.
It's Monday! What are You Reading?
What Are You Reading? is a weekly meme, hosted by Sheila at
One Person's Journey Through a World of Books
where we gather to share what we have read this past week and what we plan to read this week. It is a great way to network with other bloggers, see some wonderful blogs, and put new titles on your reading list.
Currently Reading
:
Road Trip of the Living Dead by Mark Henry
&
God Emperor of Dune by Frank Herbert
Listening to:
Blood Trail by C. J. Box
Just Finished
:
Moonshine by Alaya Johnson
&
Small Favor by Jim Butcher
(LOVED IT!!)
Next up
:
Dance on Fire by James Garcia Jr.
Powered by Linky Tools
Click here
to enter your link and view the entire list of entered links…